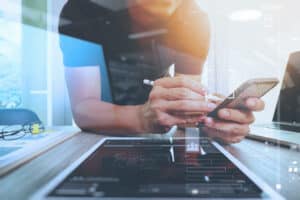 Nowadays, people frequently turn to the internet as their first resource when looking for a good or service. This means that your company requires a solid website to engage with those potential customers.
The issue is that a lot of business owners lack digital expertise. If this is you, working with web design professionals is usually the best option over attempting to develop your company website yourself. You'll be sure to have a beautiful website that displays your company in the best light to any web-surfers who visit.
But who do you call to get this beautiful site? The New Braunfels, Texas, area's top web designers: Texas Web Design! We'll create a site that crushes the competition and use top-notch SEO to assist you in turning site visits into customers. You simply cannot top that value.
Custom Website Design in New Braunfels
Most companies just can't meet their profit goals with a simple, generic website. Your company is distinct. Thus your company website ought to reflect this.
We can match our design skills to meet your company's needs. We think it's worthwhile to invest more time upfront in learning everything there is to know about your company as it helps us build a website that is uniquely suited to your company's needs.
In the end, you'll have a stunning and useful site that will communicate to any visitors the value your firm has to offer. Your new online storefront will provide you with a competitive advantage and make you stand out from the crowd.
However, it goes beyond the look of the website. We'll ensure your pages load lightning fast to minimize your bounce rate and keep you soaring up the Google rankings. You'll get peace of mind that your site will be easy to navigate, responsive, and geared to land you new customers!
Services We Provide
At Texas Web Design, we can build you a high-quality site, but we don't stop there! You can also expect other services, such as:
Facebook page management
Digital marketing(Google advertising, Facebook advertising, and more)
These services, when combined, can have a significant impact on your company. You can improve (or start from scratch) your website to make it valuable and useful.
Your consumers will have an easy and simple way to contact your company from the comfort of their homes. You'll get their attention with Facebook advertising that sends them to your superb website, which turns them into customers!
We prioritize the user experience so that people can browse your site without encountering any problems. Our objective is to develop a top-notch website from top to bottom so that your company can thrive in the digital marketing era.
Ready to Get Started?
Texas Web Design is the best option for your digital needs in New Braunfels — whether you want a whole new site or just need some help with your Google advertising.
Get in touch with us today to find out more about how we can support your business goals.